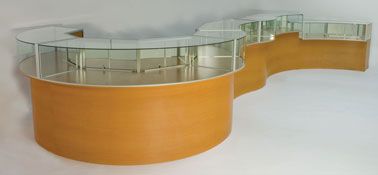 Free flowing curved modular island
Pre-assembled counter display case with bent glass allows you to easily transition with the customer through the display products. Shown here in a custom laminate design; this jewelry island can be made in various sizes, radii, and finishes.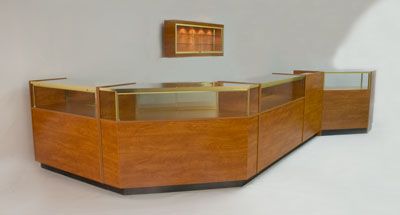 Modular island composed of the JL120 solid wood sides jewelry cases
All cases are pre-assembled and ready to use. Shown in a cherry finish with gold anodized aluminum framing. From right to left the following showcases are illustrated: JL113-4 quarter vision, JL107-64" stretched quarter vision corner, JL113-4 quarter vision, CC100 cash wrap, JL107 quarter vision corner. We are also featuring a shadow box on the Inside wall.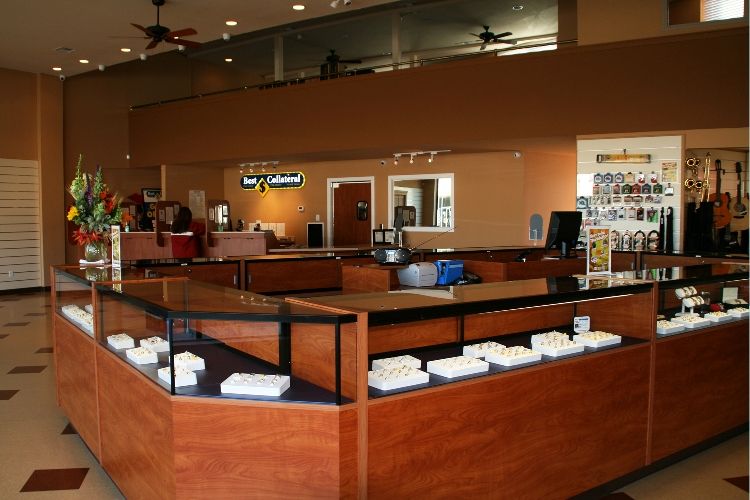 Fully enclosed island
Shown in light cherry laminate with black framing around glass areas. All glass jewelry cases are quarter vision with solid wood sides and lockable solid doors in the glass areas. The third showcase from the right is an example of a single corner jewelry case.