We manufacture different designs of cash counter wraps for the retail industry and commercial space. They are produced as individual units to be utilized by themselves or as part of larger configurations of showcases. They are delivered fully assembled and available in a wide variety of laminates and solid wood veneers. We can supply linear straight designs, angled units and various radius of curved cash wraps. Depending on your needs they may be equipped with a check writing area, a computer keyboard roll out tray, some open shelving, hinged door(s), drawers, sliding doors, recessed space. Following your instructions we can also drill the holes necessary for your wiring. With attention to your every day needs we manufacture practical cash wraps that fit your look.
Many of these designs are for illustrative purposes. Please contact us with your preferred sizes and shapes for pricing.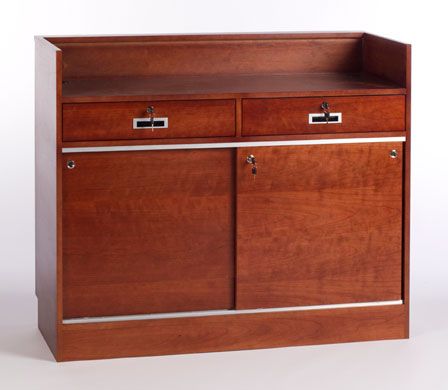 CC900
Beautiful cash wrap counter with two locking cabinets, and locking sliding cabinet drawers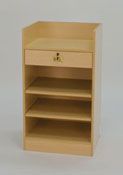 CC910
Small and simple cash counter to conduct business transactions, single locking drawer and shelves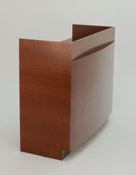 CC950
Simple countertop great for greeting customers and point of sale transactions

Cash Wraps
· Cash wraps arrive fully assembled and take little time to set in the space.
· We offer a wide variety of laminates and wood veneers to personalize your cash wrap design.
· Standard design options are fully customizable and include:
o Linear designs
o Angled units
o Curved styles
· Customizable options include:
o Check writing area
o Roll-out keyboard tray
o Adjustable shelving
o Hinged or sliding doors
o Drawers
o Recessed space
o Lockable storage
o Easy-access wiring placement holes
The cash wrap serves as the main area of interaction between the clients and the associates. As such, it needs to be both aesthetically pleasing and functional. Tecno Display manufactures linear counters of any width, with drawers that can be installed in either columns or rows. We also produce a range of curved and angled units. Though this option may lengthen the production timeframe, it does offer a unique style that will catch the attention of your clients. For further customization, we can install a high-visibility light box featuring the name of your company.
Additional Information:
· Our custom cash wraps are produced as single units that can be utilized individually or as part of a larger configuration.
· Units over 7ft in width will be made in section in order to reduce shipping costs and the potential for damage during transit. It will be the purchaser's responsibility to assemble these larger-style units once delivered. Assembly is quite simple; units will need to be aligned, leveled, and bolted together.
· Basic linear models include some open adjustable shelving and a drawer.
· When considering an angled or curved unit, we ask that you submit a drawing or blueprints for clarification.