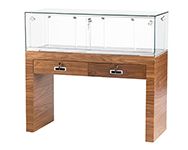 Easy Access Archival
These archival display cases are perfect for storing precious valuables in locations like museums, as it allows accessibility with the pull-out drawers.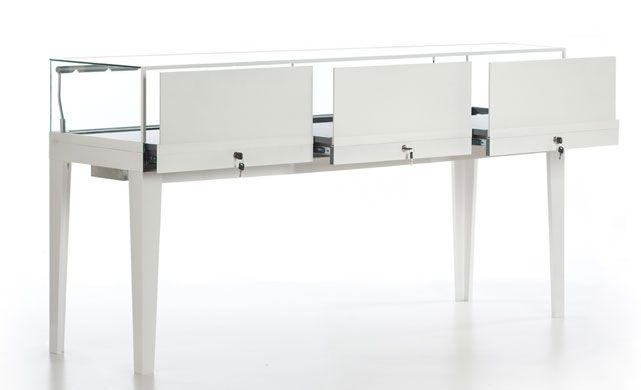 Contemporary Showcase
This modern style showcase has very angular and unique legs and drawers, allowing for style in your retail location.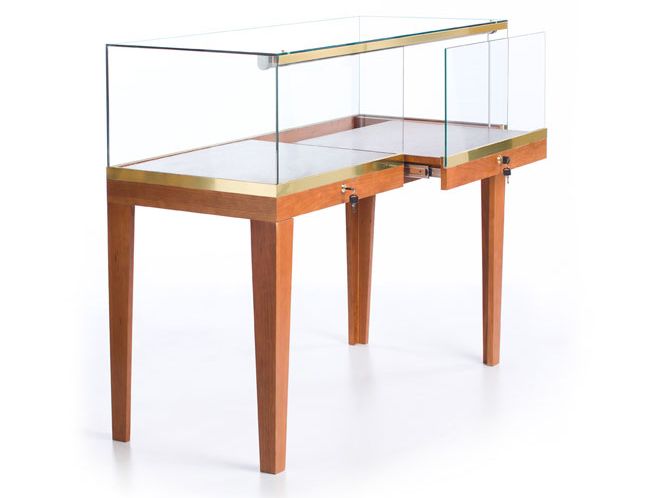 Elegant Jewelry Showcase

With a clean and refined appearance, this jewelry display case is ideal for high-end jewelers and retailers.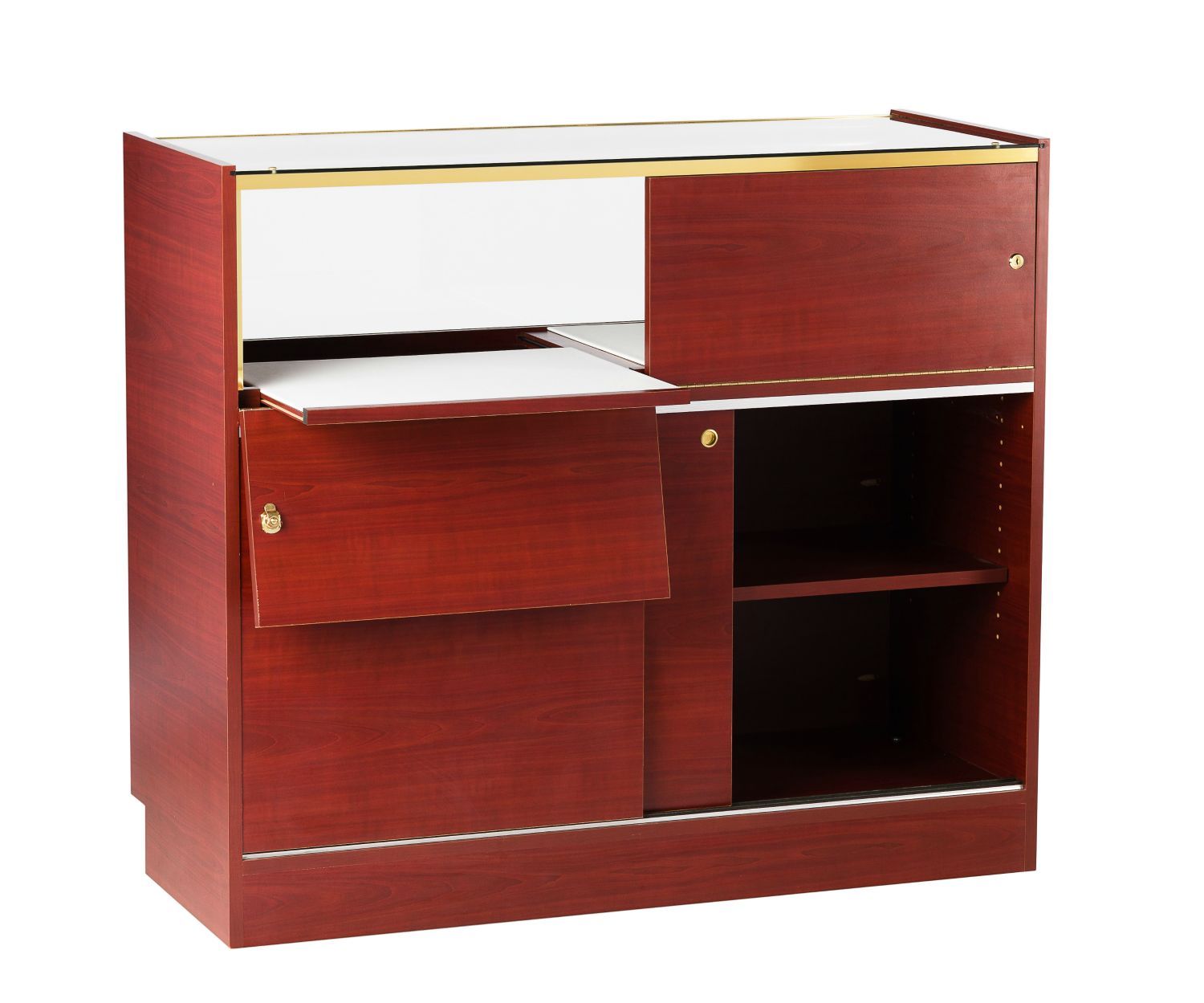 Integrated Options

A variety of cabinets and showcases are made possible. This is a personalized display case with a glass display and additional storage room.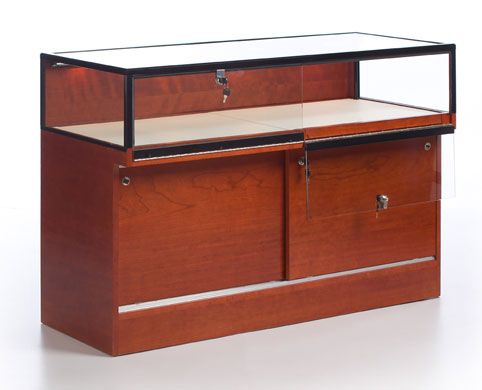 Reversed with a Lip

A gorgeous custom showcase piece made with a hanging-edge counter on the customer side of the case.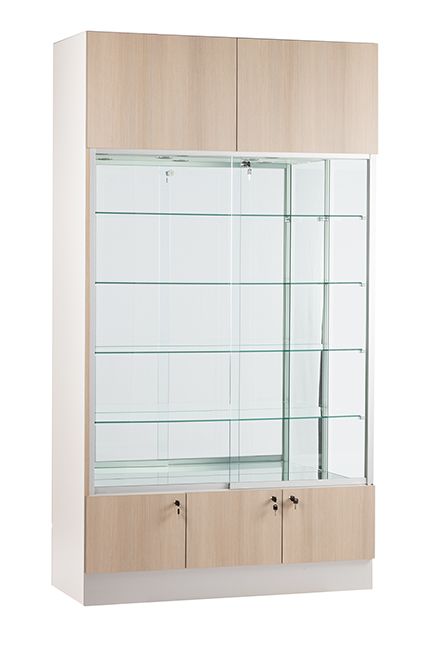 Custom Trophy Display Case

A fantastic option for schools and personal use, this trophy case displays your valuables, in addition to providing bottom storage spaces.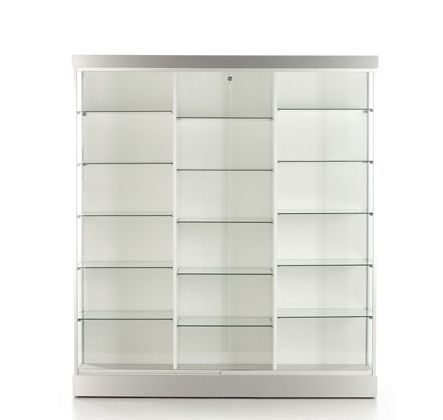 Sectional Trophy Case

A great option to separate and distinguish a variety of trophies and awards is with a sectional trophy case. Each item will have its own place on this amazing custom shelf.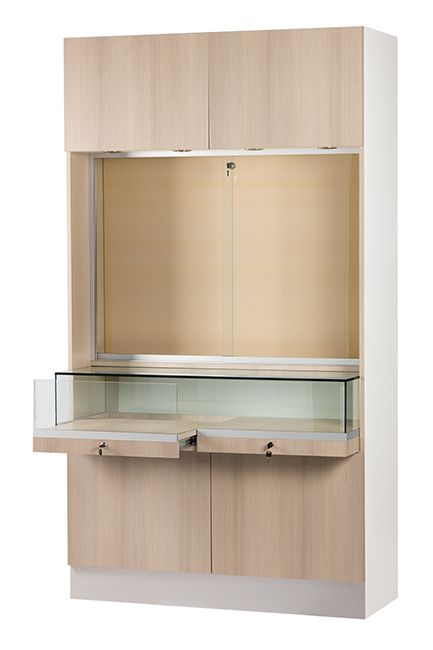 Combined Display Case

If you are looking for an innovative and unique showcase, the combined display case with glass showcasing and drawers is a perfect option.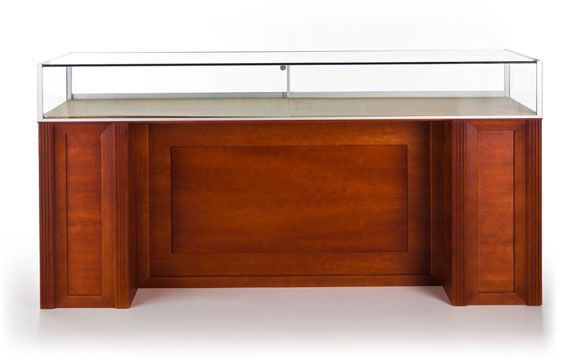 Display Case with Molding

A chic and classic look is made with this simple display case, and a beautiful molding around it.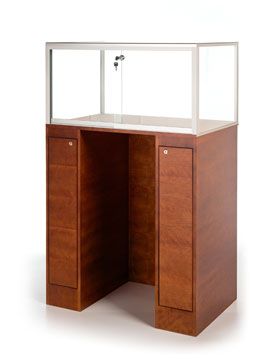 Pedestal with Molding
Molding is a great way to embolden the appearance of your displays. It adds a sense of sophistication.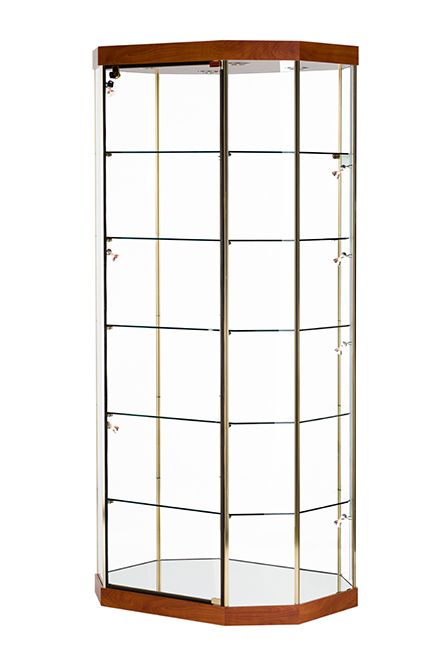 Eight-Sided Tower Showcase

This octagonal display case is a fun, specialized case that will fit into any venue.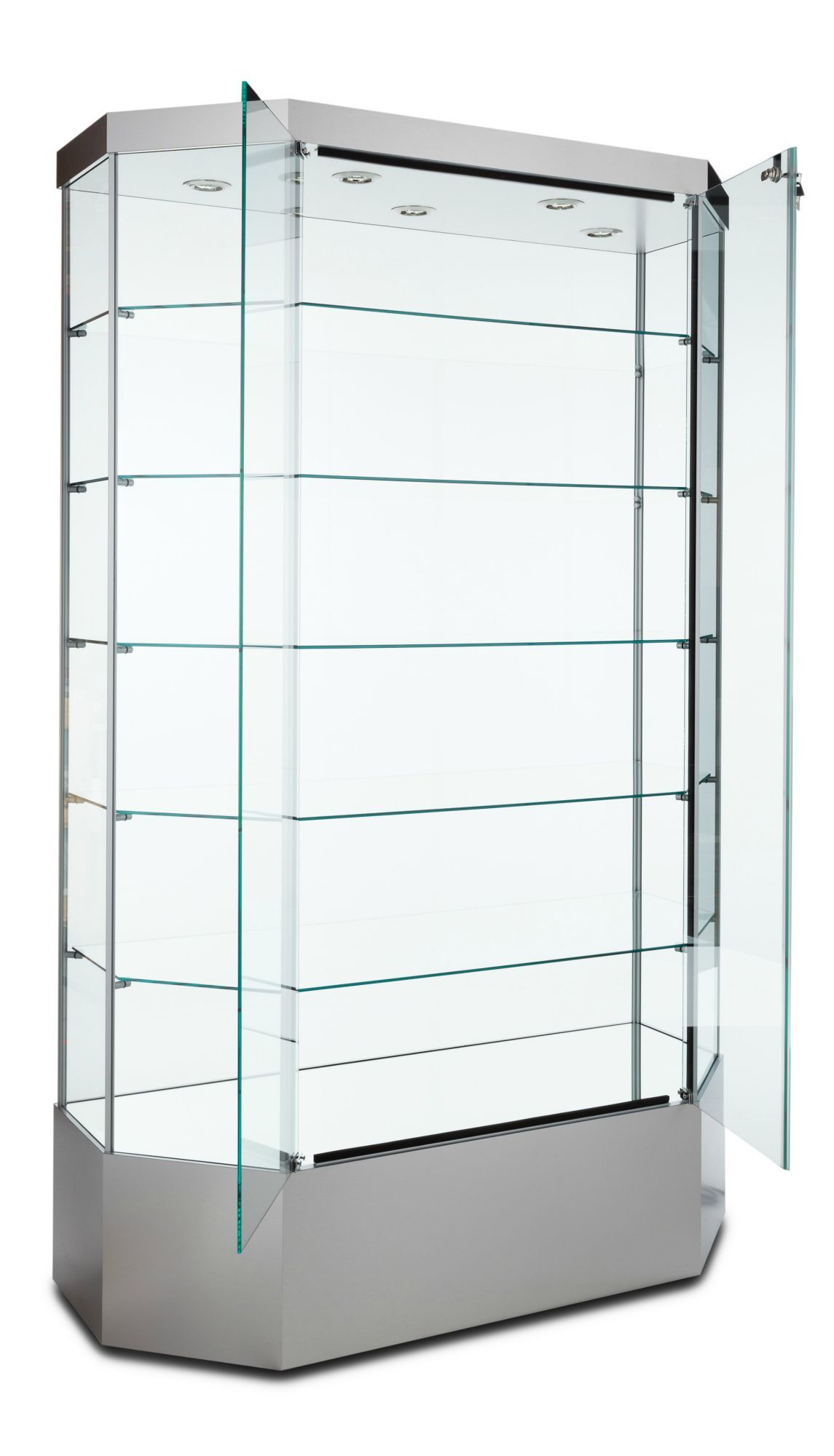 Six-Sided Trophy Showcase

A trophy display case is a good way to not only show trophies, but also personal collectibles. This shelf is great to be used at home.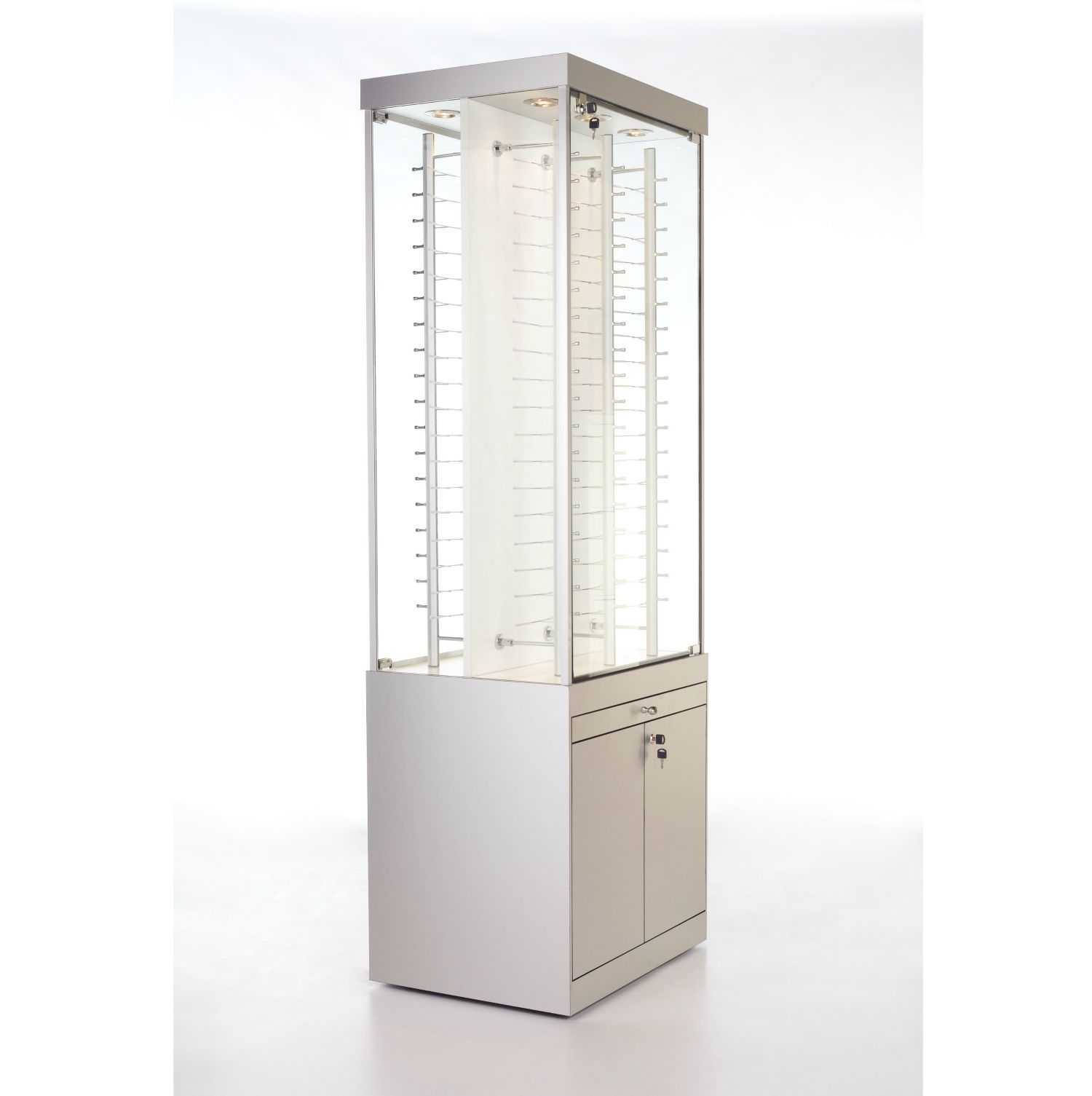 Two-Sided Optical Cabinet

Eye-wear needs to be protected and displayed at the same time. This two-sided optical cabinet is ideal for just that.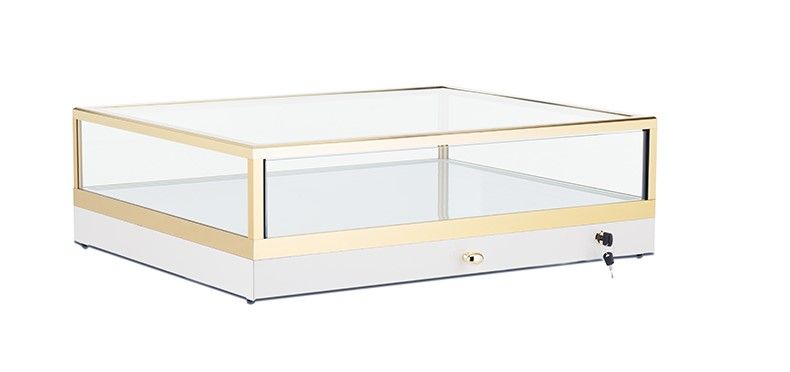 Full Frame GL202

This glass top display case dazzles with its beautiful gold trim and convenient pull-out drawer.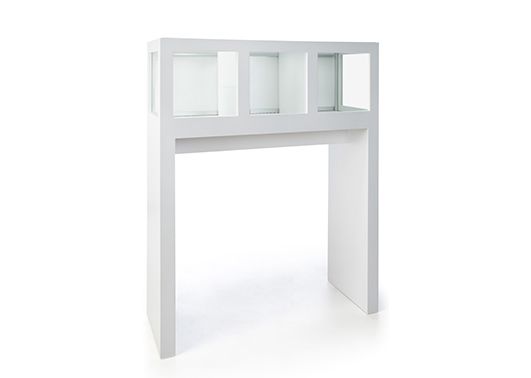 Vitrine Pedestal

Not just any ordinary pedestal, this vitrine pedestal is a fantastic way to showcase artwork, prized possessions, etc. in a beautiful furniture piece.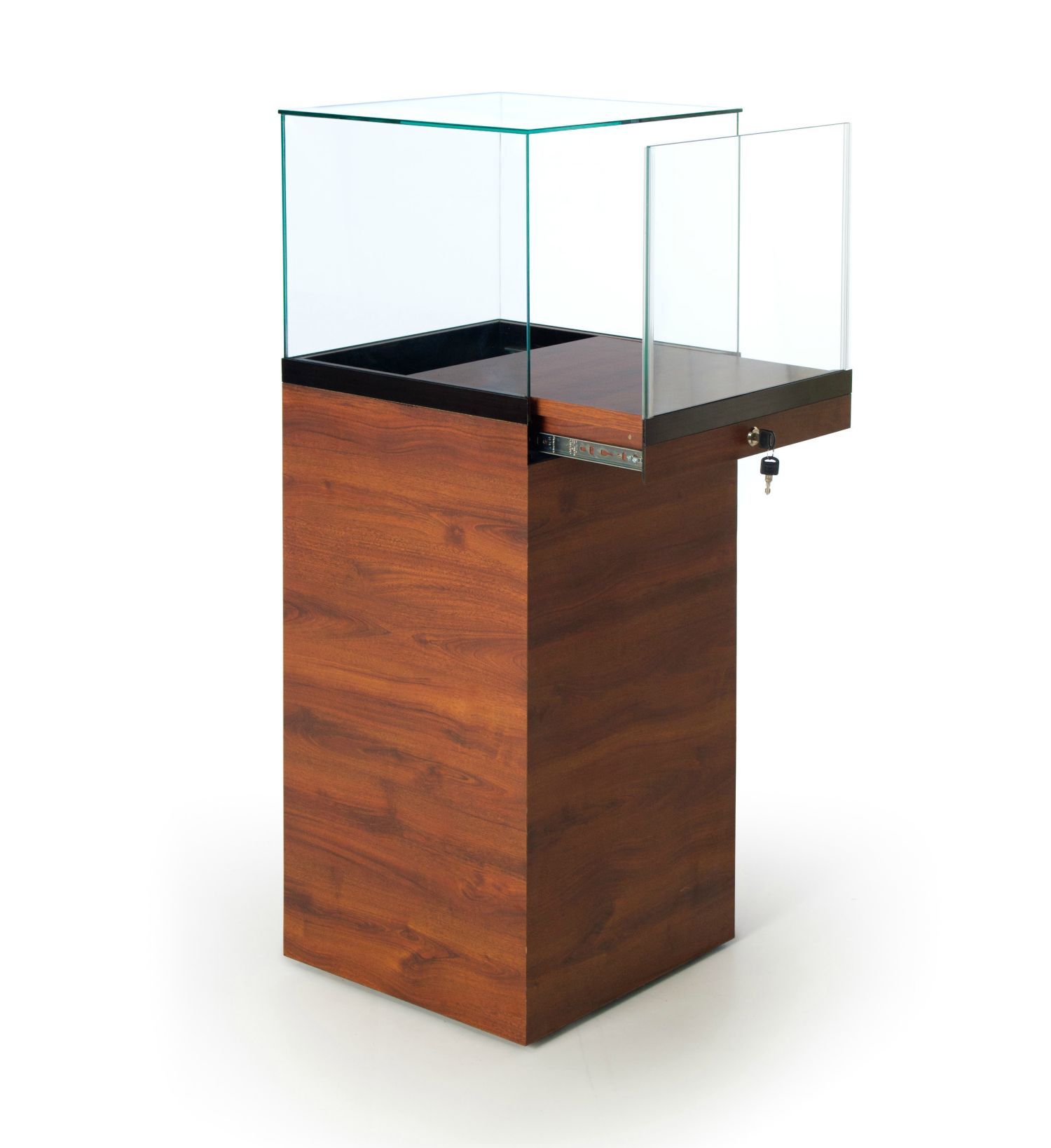 Pedestal with Pull-Out Deck

Many times the items on display are fragile. This pedestal with a pull-out deck is a superb option to be able to handle and remove your merchandise with care.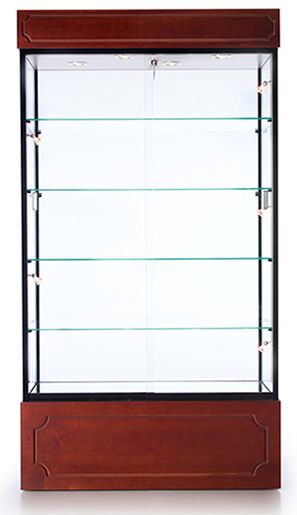 Recessed Veneer Showcase

The engraved recess veneer creates a classic style to any piece of furniture, especially a gorgeous showcase.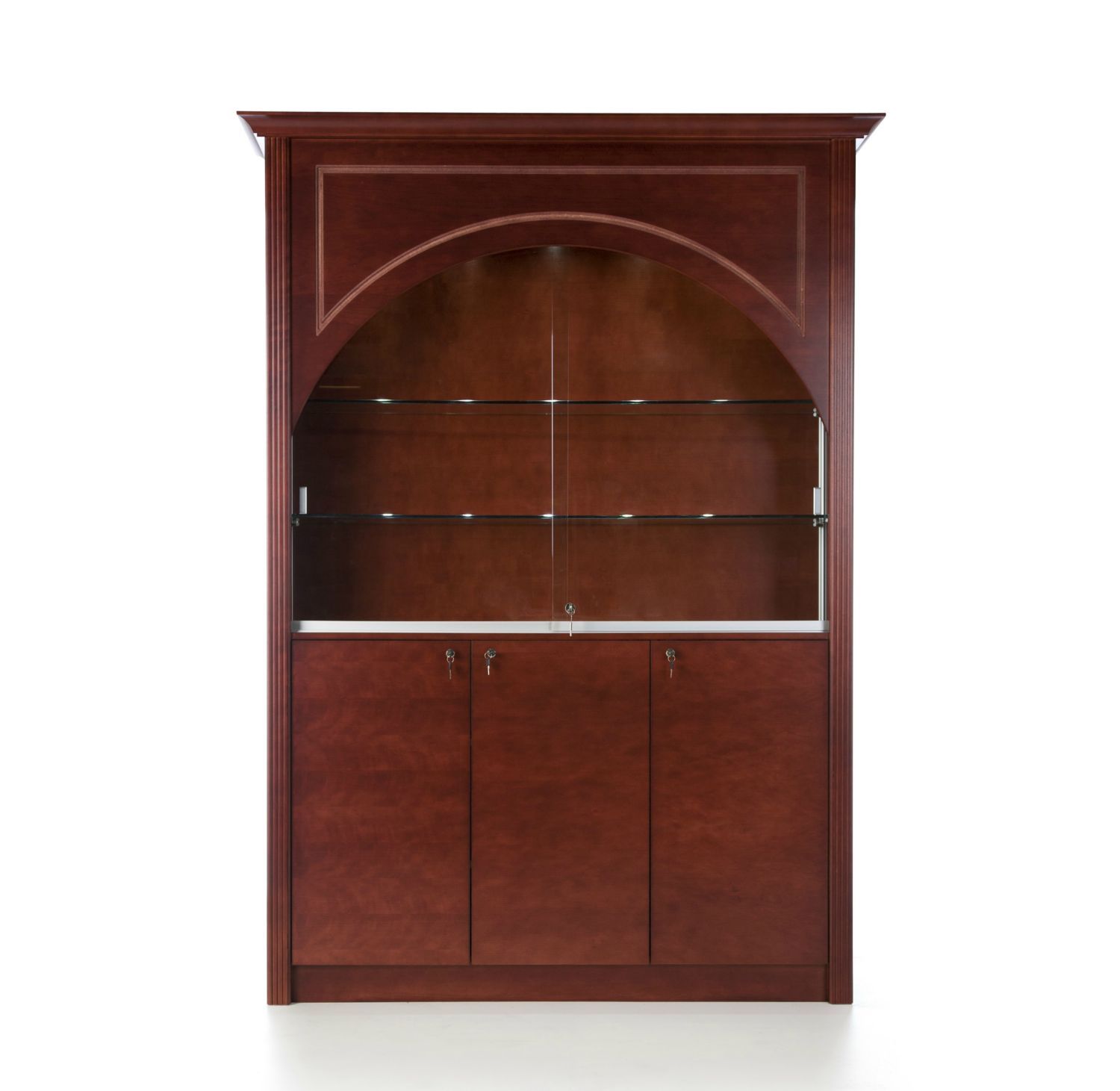 Classic Arched Display Cabinet

This arched display cabinet is an extremely unique and elegant style. This is no ordinary showcase, with its unique arch this cabinet will add flare to any room.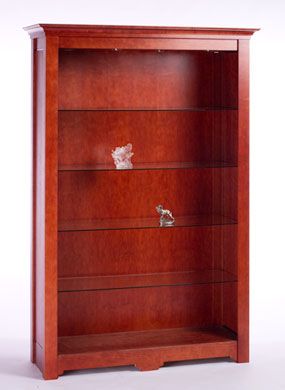 Open Trophy Display Case

Sometimes you may not want your items hidden behind glass. Maybe they aren't fragile or you want people to be able to handle them. An open display case is the solution.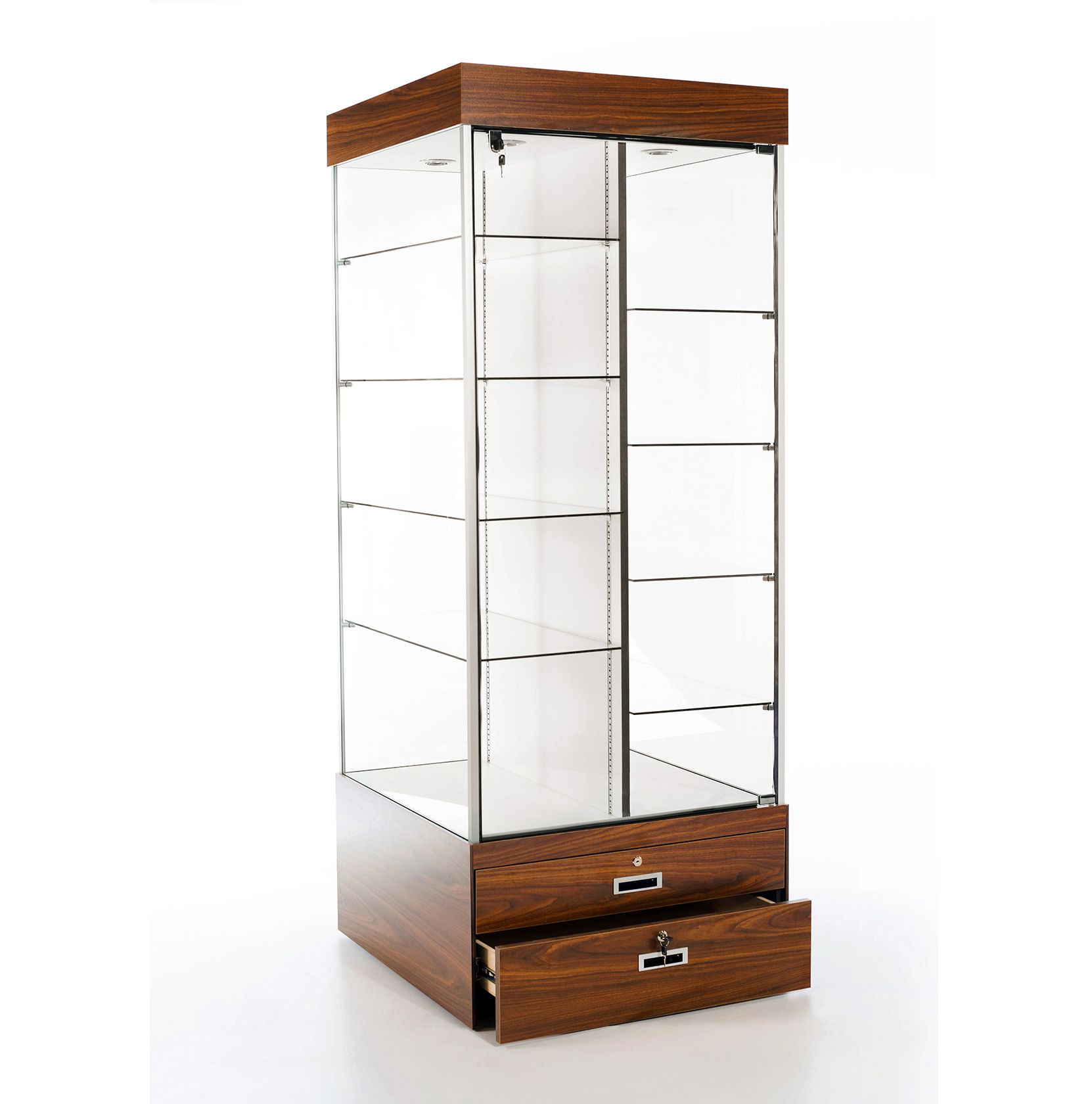 Tower with Drawers

Some things are meant to be showcased, and others are meant to be put away in drawers. This tower show case is your perfect fit.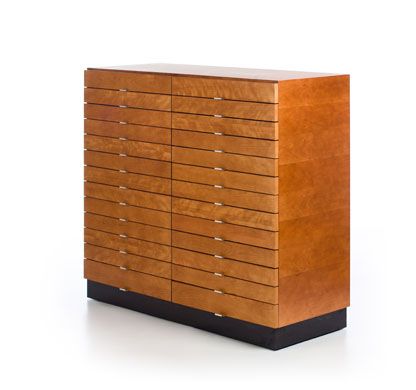 Eye-Wear Storage Cabinet

You might want eye-wear put away to avoid scratches or save storage. This is an excellent storage case.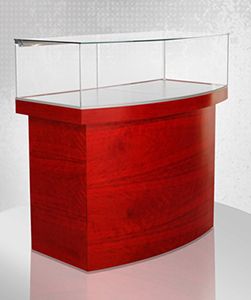 Vibrant and Curved

This beautiful jewelry display case is seen in a sleek curve and saturated red color that brings a sophisticated appearance to the room.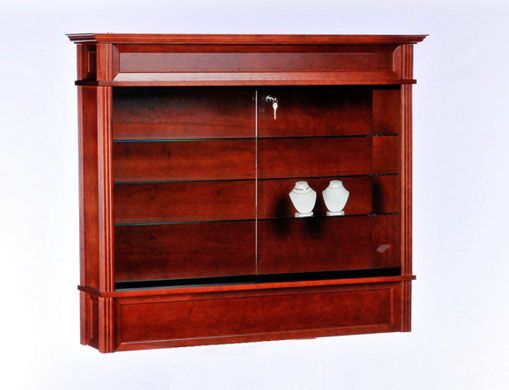 Classic Wall-Mounted Showcase

You may want to conserve floor space and get your display cases off of the ground. A wall-mounted showcase is a fantastic way to go.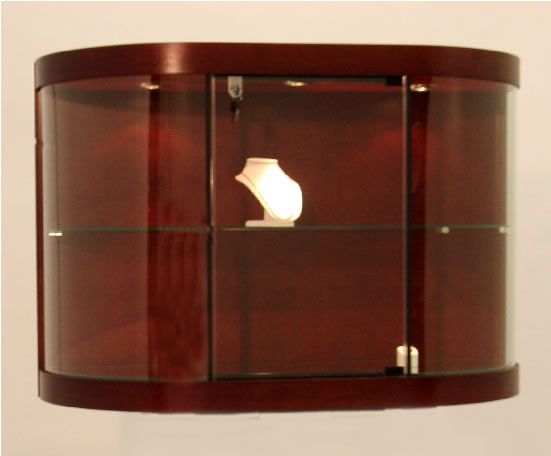 Curved Wall-Mounted Showcase

A simple curve on any showcase makes it different and unique. This wall-mounted display case will add style to wherever it's hung.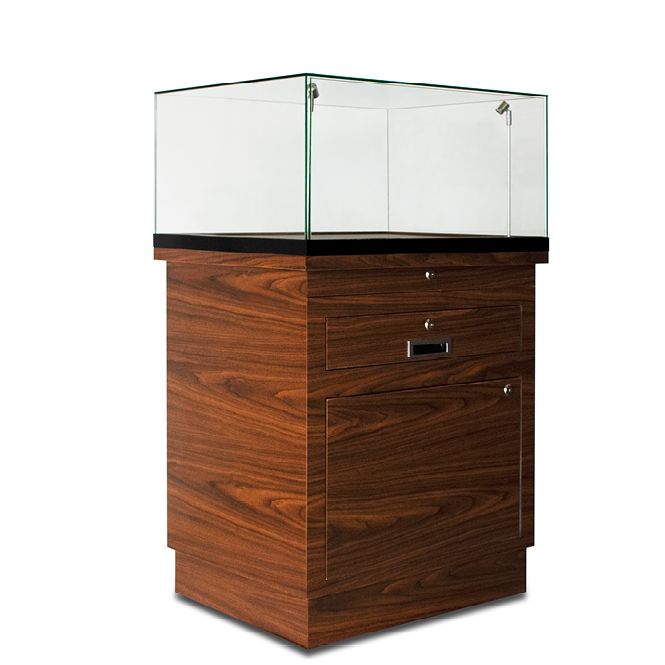 Versatile Pedestal

It's always awesome when one product can be used for multiple uses. This pedestal is in fact, versatile for its user and can hold a variety of items.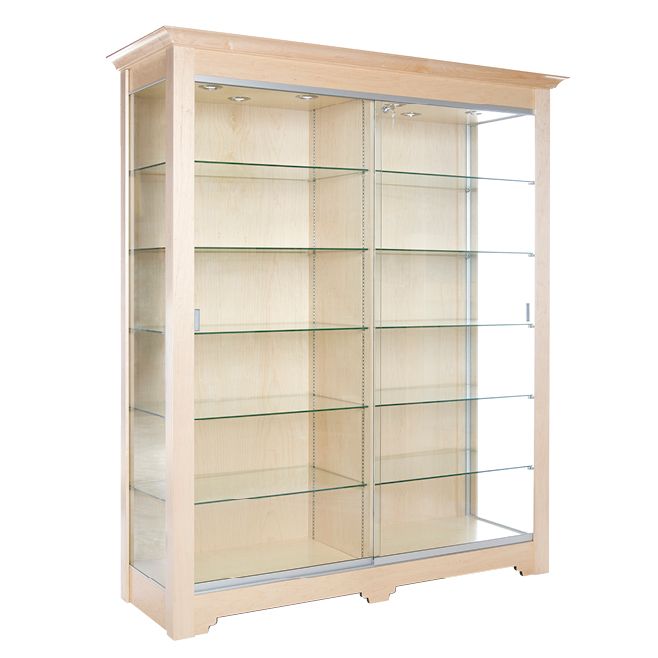 Classic Wooden Trophy Case

Metal appearances might be modern, but handcrafted wood work will never go out of style, like this tasteful trophy case.